The First Fruits of Summer
Gardening Comments Off on The First Fruits of Summer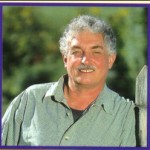 As spring morphs into summer, the strawberries come ripe.
The best strawberries, in my opinion, are the tiny, native wild strawberries of North America that grow east of the Rockies (Fragaria virginiana). In the Pocono Mountains of Pennsylvania, they ripen in the second         week of June. The fields around my boyhood home were carpeted with them—they grew prolifically in the poor shale and clay soils of our hilltop. When the hot June sun baked these fields, great clouds of strawberry fragrance would rise to meet me and I spent many happy, sweaty hours down among the grasses and weeds, eating them straight from the plants. The berries are only the size of your little fingernail, but each packs all the intense strawberry flavor of a full-size hybrid berry—and then some.
I was lucky to be back in that vicinity a few Junes ago and drove to that hilltop to see if I could find some wild strawberries. I hadn't tasted them in probably 30 years or more. As I entered an open field near my former home, I was greeted by the familiar smell of strawberries, and looking down, saw them dangling red and ripe from their little plants by the hundreds. I got a small paper cup from the car and quickly filled it, then drove down to the village diner where I had my first job (washing dishes) and ordered a scoop of vanilla ice cream. When it was set in front of me, I poured the wild strawberries over it and dug in. Though time has, I'm sure, dulled my senses somewhat, they were still as rich and luxurious a flavor as I remembered.
Summertime Joys
Uncategorized Comments Off on Summertime Joys
First, here's an incredible version of Summertime by Ella Fitzgerald, a singer who's underrated. She is so great! http://www.youtube.com/watch?v=1j6avX7ebkM&feature=related.
Also, people wonder why New Jersey corn and tomatoes are so good–it's because both days and nights are hot and humid, and that makes the best corn and tomatoes. Yum!